All pages are in English, except graphics and mathematics
---

Come and travel around Hungary! There are lots of pictures from all parts of the country with information and guide.
---

Name days, holidays, folk traditions.. Learn about Hungarian customs, or submit your question for the faq page.
---

Hungarian Genealogy information and listing. Read my database, and get listed here! Get help in your research.
---

Learn Hungarian from these 'magyar' lessons with sound files, quizzes and self-tests. Sign up for the daily grammar newsletter.
---
About me,
and about this website.
---

Webrings, Hungarotips belongs to.
---

Call Hungary for 1.6 cents per minute
Do you plan a trip to Hungary? Please, read my travel page. I have collected lots of information there.

---
Puzzles and quizzes
about Hungary. Jigsaw puzzles and on-line quizzes about buildings, history, famous Hungarians and other facts.
---
Quick translator
gives you a Hungarian sentence in a minute. Well, this is a game, but you can learn Hungarian here, too.
---
What is the time elsewhere?
World Time Zones
gives the answer.
---


---
Kedves magyar látogatók!
Bár az itt található anyag döntő többsége angol, van néhány magyar oldal is: a grafika és az iskolákról, matematikáról szóló fejezetek.



---

One of my precious awards came from About.com.

See more awards, this site has won.
Join the Hungarotips Mail List
Type your e-mail address here:

---
Quick links:
My currency converter
HUDIR-Reference and Search
Hungarians Around the World
National symbols, national days (PDF)
Danubius Radio
DunaTV on-line
Kisokos (English/Hungarian)
Business in Hungary

---
My Hungarian book and music store with reviews

---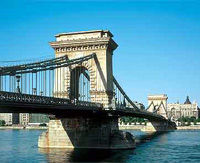 Tours in Hungary